AlaMag Micromagnetics Simulator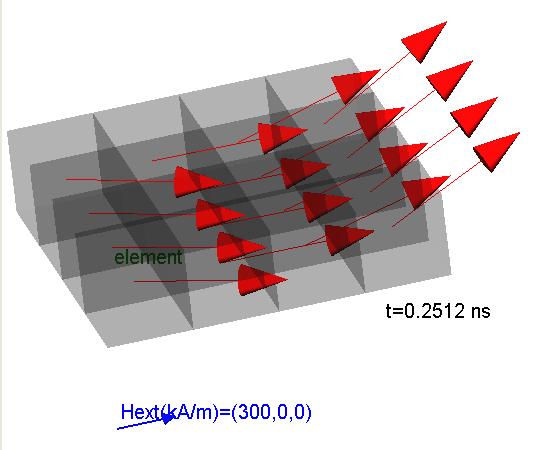 This is a freely distributable (under the Gnu General Public License) micromagnetics simulator. Features include:
Easy to install and run -- Download installer, run it, and follow the instructions. [But see "Newer version", below]
Script-driven -- left-click on one of the scripts in directory SampleScripts to run it.
Easy to modify script in text editor (e.g., Notepad) to change parameters or create an entirely new system -- an arbitrary array of rectangles, subdivided into cells of any size, with any material properties (magnetization, anisotropy, etc. -- details in readme.user.txt)
If you make a simulation you like, email the script file and a link to this page to your friends and they can be looking at your simulation in 5 minutes.
Magnetostatic interactions are calculated by a very efficient implementation of the Fast Multipole method.
Constantly expanding set of features (spin torque, hysteresis, etc.)
After installation, a window should open to directory ...AlaMag\SampleScripts\. Double-clicking on any of these scripts should cause it to be opened and run by AlaMag. Check the file readme.user.txt (also in the installation directory) if you have problems or questions. There are some extra script files that work with the installer version. Note however that the installer dates from 2009 -- see "Newer version" link below.

Help:
If the volume isn't too high, questions (including requests for source code) can be addressed to AlaMag@mint.ua.edu.
Extras:
This code has been developed at the University of Alabama over a period of years by P. B. Visscher, Xuebing Feng, Y. Gunal, M. Benakli, D. M. Apalkov, Arko Misra, and Shuxia Wang. Installation configured by Josh Tyner.